Rock Star Marriages
Rock Stars Who Got Married And Stayed That Way

When you think about the rock and roll lifestyle, it's unlikely that you'll imagine a long lasting, happy marriage. However, a surprising number of rockstars have found their true love and enjoyed many years of wedded bliss. Remember that love should be fed with kind acts and romantics and what better occasion is there than Valentine's day - you can see this list of ideas for Valentine's day gifts if you want to amaze and express your feelings to the person you love. Here, we look at some of these romantic rockers and the lucky women that they married.
Keith Richards & Patti Hansen
The ultimate rocker, Rolling Stone Keith Richards, met his wife Patti Hansen in 1979 and married her four years later on his 40th birthday. After 33 years of happy marriage, the couple have two beautiful model daughters, Theodora and Alexandra, and Richards still expresses his gratitude to his wife for helping him to stay on the "straight and narrow".
Dee & Suzette Snider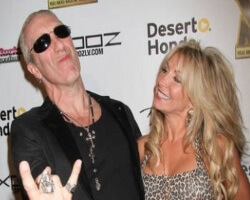 Twisted Sister front man Dee Snider met his wife Suzette in 1976 when she was just 15 years old - the teenager had sneaked into a Long Island nightclub to watch his band perform. After the tricky task of persuading her parents that, at 6 years older, he was a suitable partner for their daughter, Dee and Suzette married in 1981 and, after 35 years, they now have four children, Cheyenne Jean, Cody Blue, Shane Royal and Jesse Blaze.
Ringo Starr & Barbara Bach
One of the best known rockstars of them all, the drummer for iconic rock band The Beatles, Ringo Starr, met former Bond Girl Barbara Bach on the set of Caveman in 1980 and it was love at first sight. They pair were married in less than a year and have been wed for 35 years, sharing their time between their homes in Monte Carlo and Los Angeles.
Ozzy & Sharon Osbourne
Despite recent rumours of their split, Ozzy and Sharon Osbourne's marriage is still going strong after 34 years. The Black Sabbath singer married his manager in 1982 and still declares that he would be lost without her, even crediting her with keeping him alive. The couple have three children, Jack, Kelly and Aimee.
David Bowie & Iman Abdulmajid
This pair had been happily married for 24 years when Bowie died in 2016. Theirs was a tale of whirlwind romance after the two were introduced by their hairdresser. By the end of their first date, they were smitten with each other and had already named their children before dessert arrived!
Jon Bon Jovi & Dorothea Hurley
Heartthrob Bon Jovi broke teenage hearts all over the world when he married Dorothea Hurley, his high school sweetheart, in 1989. The couple have now been married for 27 years and have four children, yet their love is as strong as ever, with Jon confessing his adoration for his wife and praising her strength and independence.
Alice Cooper & Sheryl Goddard
An unlikely candidate for a long lasting romance, Alice Cooper married his Queen of Darkness, the choreographer and dancer Sheryl Goddard, in 1976 after meeting when she was performing in one of his concerts. The couple have been married for four decades and have three children, Calico,