Welcome to the Home of Rock Music
Are you a fan of rock music? Are you passionate about the biggest artists in the industry or keen to find out more about the latest up and coming bands? Then you've come to the right place. This is the home of rock music, a place for the biggest fans of rock music to get together and explore this musical genre. We have everything to satisfy your deepest craving for music, from interviews to biographies, and from the latest news from the world of rock to updates about upcoming events. Whether you love the old school classics or are seeking out exciting new sounds, we have something for you.
Our Mission and Aims
It is our mission to bring our love of rock to the masses and to share some of the best music ever created with an audience of all ages. From those who were around at the creation of the genre to those who are forming the latest generation of fans, it is our aim for rock lovers from all walks of life to find something to enjoy on our site. It is our design to make this hub a one-stop resource and hub of information about the world of rock music, bringing together the old and the new in a single, easy to find location. We want to introduce our audience to new music and to help them to rediscover older bands through a range of formats, from interviews to news articles. Journey with us through the dramatic, exciting and creative world of rock music and you're sure to find yourself on your own Stairway To Heaven!
Introducing Our Team
The team behind this site is made up of friends and band mates Rob Palmer and Steve Dalton. Based in Nottingham in the UK, the pair first met at high school back in 1991. They collaborated on their first musical project a year later as part of a school music assignment in which they had to write and perform their own song. The result, which went by the name of "Fruit and Vegetable Products!" was a hit at the school's project showcase and instilled in them both the passion for composing and performing. They formed their own band, The Paisley Pyjamas, with Rob singing lead vocals and Steve on guitar. Inspired by the popular rock bands of the day, and especially Nirvana and Guns N' Roses, their musical offerings were unfortunately not as successful as those of their heroes and in 1998 they went their separate ways – Rob to train as a mechanic and Steve to study for a degree in education. Fifteen years later, the pair met up again and, even though music was neither of their day jobs, they still yearned for the bright lights of the arena! They decided to start up a new band, Youth Resurrected, recruiting two of their friends to play keyboards and drums. Writing their own material and covering popular rock hits, their band began playing at pubs in their local area. Today, they can often be found on Friday and Saturday nights belting out the classics at their local working men's club or working on this site, a culmination of their passion for all things rock. .
The History of Rock Music
With its origins in the USA during the 1950s, rock music started life as Rock and Roll, but diversified into several styles during the 1960s. Taking its influences from country music, rhythm and blues and blues music, rock also encompasses other genres like folk, jazz and electric blues. Generally centring around electric guitar music, rock generally features bass and drums together with vocals, and the themes could be as diverse as love, warfare or those with a political or social leaning. The 1960s is often known as the golden age of rock, with the emergence of psychedelic rock being instrumental in reflecting the counterculture of the age. This spawned progressive rock, glam rock, heavy metal and punk, each forming a unique branch from the same musical tree. Moving into the 1990s, alternative rock emerged into the mainstream thanks to the indie, grunge and Britpop movements. Thanks to its authentic nature and passionate style, it is easy to see why rock music has been the vehicle for many social and cultural movements, with sub-cultures forming like the UK's mods and rockers, the San Francisco hippie movement and, more recently, goths and emos. This musical genre has also been instrumental in changing public attitudes to sex, drug use and race as well as being a way for youths to express their rage and unwillingness to conform to society's expectations.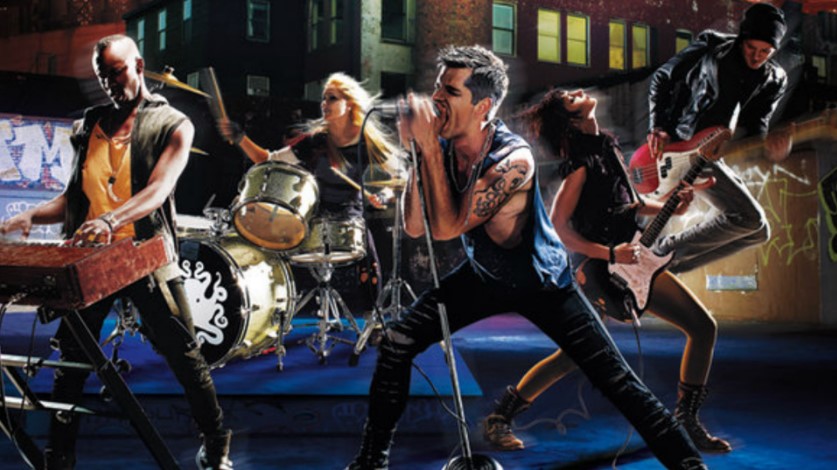 Top 5 Best Rock Bands of All Time
Over the years, there have been countless rock bands, but only some have forged their own special place in the public conscience. Here is a countdown of the top five best rock bands of all time:
5. Metallica
American thrash metal band Metallica were first formed in 1981, with James Hetfield as their lead vocalist. They reached mainstream consciousness with their single Enter Sandman, but it wasn't until they released their third album, Master of Puppets, that their true influence on the musical scene was acknowledged. Their Black Album has risen to become one of the USA's top selling albums thanks to its more mainstream approach, however their critically acclaimed 9th album, Death Magnetic, showed a return to their 1980s thrash roots. The band are still going strong, having released their most recent album in 2016.
4. Pink Floyd
Founded in 1965, English rock band Pink Floyd rose to international acclaim thanks to their psychedelic and progressive style. Some of their best known albums include The Dark Side Of The Moon and The Wall, both of which are ranked among the top selling music albums in history. The band have been inducted into both the UK Music Hall of Fame and the American Rock and Roll Hall of Fame and they have sold, to date, well over 250 million records worldwide.
3. Queen
Best known for its late frontman, the legend that was Freddie Mercury, the rock band Queen formed in 1970 and achieved outstanding success with their innovative musical style and inventive lyrics. Although their early work is less well known, their second album, Queen II, is one of their best offerings, yet the majority of their most famous hits come from the 1980s when the band rocked out at numerous big stadium tours. Their classic numbers include Hammer To Fall, Another One Bites The Dust and We Are The Champions, all of which are regularly heard today.
2. The Beatles
Perhaps the most famous of all British rock bands, The Beatles have single-handedly been credited with changing the music industry for good. From their classic early works like Please Please Me to psychedelic hit Lucy In The Sky With Diamonds, the names John Lennon, Paul McCartney, Ringo Starr and George Harrison will remain forever in the public consciousness.
1. Led Zeppelin
Formed in 1968, Led Zeppelin are still regarded as one of the most influential rock bands of all time. Having achieved record sales of around 300 million units worldwide, this band succeeded in having no less than eight consecutive number one albums in the UK and have earned the title "The Biggest Band of the Seventies". One of their most famous tracks has to be the iconic Stairway To